Foxboro families caught in travel restriction chaos | Local News – The Sun Chronicle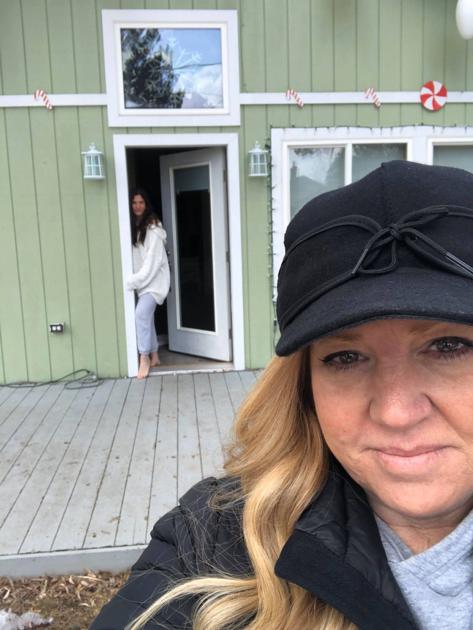 Foxboro resident Traci Longa's daughter Sophie was among the many people to get caught up in chaos as travel restrictions were imposed due to spreading cases of the coronavirus.
Sophie is currently in quarantine in Lake Nebagamon, Wisconsin, after traveling back from studying in Spain. Her mother has taken up temporary quarters across the street from where her daughter is quarantined.
"I can't get within six feet of her. I can't wait to hug her," said Traci Longa, who tried to frantically get her daughter a ticket to Boston and even New York after President Donald Trump announced a ban on travel from Europe.
"Every time I went to pay, the ticket was gone. Since I was in Wisconsin at the time, I tried Minneapolis and it went through. That airport is a three-hour drive from us so we brought two cars down," Traci Longa said.
Sophie, 21, a junior at Siena College Loudonville, N.Y., studying economics and marketing, heard about the travel ban while she was out with some friends a little after midnight in Spain.
"One of my friends (who was just visiting for her spring break), got a text from her family who was watching the press conference and she started freaking out. I thought it was a misunderstanding and the situation was being over-dramatized. Then I thought it meant I couldn't leave Spain and realized it meant I was being kicked out of my dorm and my program was ending. I was extremely upset and disappointed," Sophie said. "Unfortunately, I had to leave Spain in a matter of about 48 hours after that message and spent my last day packing up my home of two-and-a-half months."
She flew out of the Madrid Barajas Airport around noon, got there about four hours early as she anticipated an extremely long baggage check process, but she said she was pleasantly surprised to find it only took her about 10 minutes and about the same to get through security.
"My cousin has a house across the street from me here but is in Florida. So, Sophie is staying there by herself until the 28th," her mother said. "The support has been wonderful though and she's had many neighbors dropping things off to her door."
Mother and daughter had to postpone their travel back to Foxboro until Sophie is through her quarantine.
"We haven't decided yet if we will fly or drive back at this point," said Traci Longa who six years ago bought a bar in Wisconsin, which has been in the family for 72 years. She is the third generation to own and run it and travels back there every six to eight weeks.
The family has lived in Foxboro since 2003. Sophie's dad, Mark Longa, grew up in Foxboro and graduated from Foxboro High School. He now lives in North Attleboro.
Sophie is currently taking her classes online in Spanish via recorded lectures as her teachers are teaching classes at the same time as they were in Spain, which is about 7 hours ahead.
"I just took some mid-terms last week online and have a few more this week. Other than classes and work, I have been doing lots of puzzles and watching Netflix," she said. "Quarantine hasn't been as bad as I expected because I get lots of window visits, can go on distanced walks and get lots of surprise meal deliveries. It's nice to know that people are still thinking of others and being so generous in such a crazy, scary time."
Another Foxboro resident, Karen Wheatley, was also among the many caught off guard by the fast-evolving travel restrictions in wake of the coronavirus pandemic.
Wheatley, a 35-year resident of Foxboro, and her husband John, recently had to deal with the fallout from those restrictions when their daughter Caroline, who was studying in Florence, Italy, for the semester, found out the program was being terminated on Feb. 27, just one month into her time there. When the CDC raised the level of warning to Level 3, all students in Italy were given a week to get home.
"We were vacationing in Florida and received her tearful call at 5 p.m. our time. My daughter was in London for the weekend but quickly returned to start packing up her apartment, which had been supplied by the University of New Hampshire's partner for international programs," Karen Wheatley said. "We were, fortunately, able to get her a flight home on Tuesday which was filled with college students since 20,000 American college students study each semester in Florence alone."
Caroline flew home into Boston Logan Airport and was met by her brother since her parents were making their way home from Florida at the time.
"They had not begun any sort of screening at Logan yet. Of course, we had planned a big trip for April to Italy to visit with her, and that is now canceled but we hope to reschedule when things calm down," Karen Wheatley said.
Caroline begins online classes with the University in Florence this week. She is spending time cleaning her room and going on runs. Her original plan of working up at the University of New Hampshire while studying has also been thwarted since classes there are suspended.
Wheatley said her daughter had planned to meet friends in Greece once her studies were over in May, and is still holding out hope that they can travel there as planned.
"We feel so badly about her adventure being cut short since she had worked so hard to save money for her weekend adventures in Europe between classes, but in retrospect, no one knew three weeks ago how serious the situation in Italy would become. Even the bartenders and cab drivers over there were laughing about the American kids having to go home," she said.
There's at least one thing to look forward to.
"I bought a pasta machine, so I am hoping she can teach me how to make homemade pasta, which she learned while in Italy," Wheatley said.